we welcome you in God's love!


No matter who you are, where you have been, or where you are going, DUMC is a place to discover God's love and grace alive each day!

We're easy to find...
Just one mile from Interstate 77, we are located
in the heart of downtown Davidson.
233 South Main Street
Davidson, NC 28036
Google Map


worship with us
We plan each worship message and experience with the goal of adding spiritual value and hope to your life through Jesus Christ. We want you to go home inspired and lifted up from your time with us!
Sundays at 9:00 and 11:00 a.m. In-Person Worship / The 9:00 a.m. service is Livestreamed each Sunday
Sunday mornings offer a traditional worship experience in our main sanctuary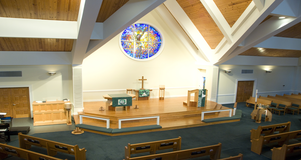 . Holy Communion is offered the first and third Sundays of the month.

Children are always welcome in worship. Childcare will resume on June 20. Pre-registration will be required.
Hearing devices are available, please let an Usher know of your need.

Frequently Asked Questions
What should I wear?
Wear whatever makes you comfortable. You will see men in suits and ties as well as golf shirts and slacks. You will see women in dresses as well as slacks. Youth are often in jeans and t-shirts.
Where do I park?
Visitor, senior, and handicapped parking spaces are designated in our main parking lot off Main Street. Parking Lot Greeters (identifiable by their orange vests) will be on hand to assist you!

Those in need of an elevator should enter through the Church Office entrance. The elevator is located directly ahead, across from the restrooms. You will arrive directly in front of an entrance to the Sanctuary.
Where do my children go?
Children are always welcome in worship! During the school year, Sunday morning classes for ages three through Grade 5 are available at 9:30 a.m.; see the Winter/Spring 2019 Sunday Morning Schedule. A staffed nursery for infants and toddlers is available during all worship services.
Do I have to be a member to take Communion?
Everyone is welcome at the communion table, whether members of DUMC or not, children and adults alike.
Want to know more about DUMC?
Our Welcome Center is located just outside the Sanctuary. Stop by! We are happy to answer questions you may have and provide you with more detailed information about DUMC. You can also contact Charlotte Thomas, Director of Involvement - she'll be happy to get you connected!

Our Mission & Beliefs
Davidson United Methodist Church is grounded in tradition. Our services reflect the legacy and practices given by our denomination's founder, John Wesley.
Everyone is welcome here. Since our inception in 1906, we are a congregation that welcomes people regardless of gender, race, class, age, ability, religious affiliation, or sexual orientation. Additionally, everyone is invited to the communion table. We believe that God's grace is a gift - freely given to each of us unconditionally.


Meet Our Pastors
Senior Pastor

704-892-8277

Rev. Brad Hinton

Pastor of Missions

704-892-8277

Pastor of Congregational Care

704-892-8277

Pastor of Faith Formation

704-892-8277

Pastor for Music & Worship

704-892-8277