Every child is a unique gift of God worthy of love, respect, & encouragement.
---
Registration for the 2021-2022 school year is now open. Please click on Registration Form and Letter below.
2021-22 Family Handbook
2021-22 School Calendar
Drop off and Pick Up Procedures
2021-22 COVID POLICY UPDATE 10/01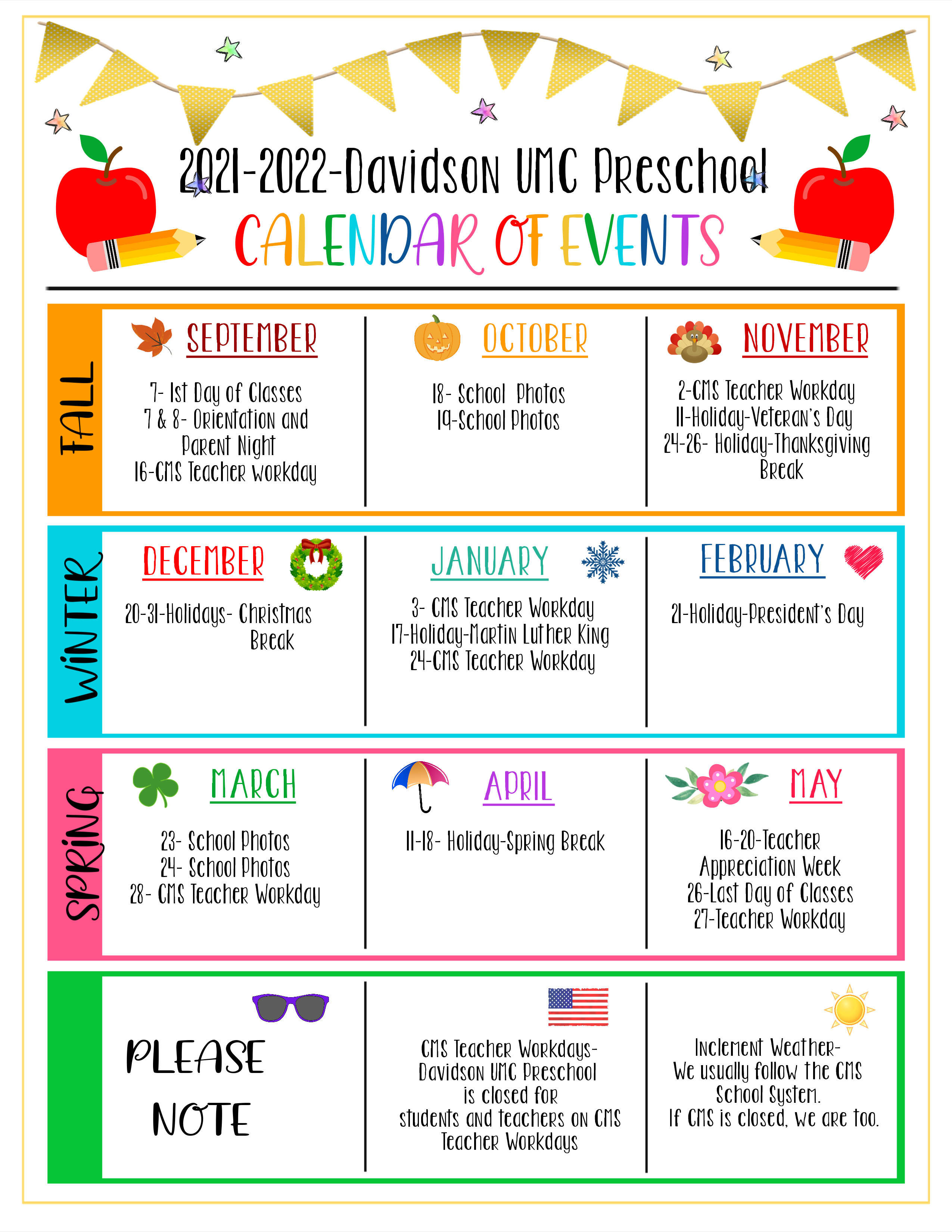 Welcome!
DUMC's Weekday Preschool program is designed to give each child the foundation needed to be successful not only in school, but also in life. We provide an environment rich in opportunities to explore, create, and learn through play. We allow children to make choices for themselves and to try new experiences. We know the importance of allowing children to learn and grow at their own rate. We also offer various teaching methods to accommodate individual learning styles.
We are blessed to have a staff of experienced, nurturing, and gifted teachers who consider teaching preschoolers their calling. The talents and experience of our teachers enable them to create a Christian environment where all children feel safe and loved.
We would love for you to join our family!
Diane Jordan
General Information
Preschool hours are 9:00 a.m. to 12:30 p.m., with lunch as part of our daily schedule. We operate on a September to May schedule, excluding days off as stated in the Parent Handbook.
Classes by Birthdate
Toddlers - must be 18 months old by 8/31/21
2's 8/31/19 - 9/01/18
3's 8/31/18 - 9/01/17
4's 8/31/17 - 9/01/16
TK 5's 8/31/16 - 9/01/15
(TK students must be five years of age by 08/31/21)
Child Teacher Ratios
Toddlers (8:2), 2's (11:2); 3's (12:2); 4's (16:2); TK 5's (16:2)
Some exceptions may be made to these limits where circumstances are deemed necessary by the Preschool.
Easing In
Easing in takes place in all classes to assure a smooth transition into the class for both children and teachers and will vary for each age group. If individual children need more time, we will work with you to meet your child's needs.

Immunizations
All children's medical records must be in the school office NO LATER THAN August 1. YOUR CHILD CANNOT ATTEND PRESCHOOL UNTIL THESE COMPLETED FORMS ARE RECEIVED.
Tuition & Fees
2021/22 Tuition is based on nine months and is paid monthly.
Toddlers T/TH $240
2-day 2's T/TH $217
3-day 2's MWF $267
2-day 3's T/TH $213
3-day 3's MWF $259
3-day 3's MTTH $259
4-day 4's T-F $306
5 day 4's M-F $354
TK 5's M-F $364
Registration fee: $80.00 for first child, $60.00 for additional child.
Please note: For families who are new to our program, the first tuition payment will be due with registration. This payment will be for May 2022's tuition. Registration and tuition fees should be paid in one check, made payable to DUMC Preschool. Both fees are non-refundable. If space in the program is not available for your child, all fees will be returned to you.
Scholarships
Funds are available for scholarships. If you need assistance, please complete an application available through the Preschool Director. Applications are reviewed by the scholarship committee and are kept strictly confidential.
Educational Philosophy
We believe...
That young children learn the foundations of trust, love, faith, hope, and forgiveness as they interact with caring adults and other children in a nurturing environment.
That children learn best with a low student/teacher ratio. In the importance of encouraging growth of the whole child, including the physical, emotional, spiritual, social, and cognitive development.
That development is a sequential interrelated process and that each child has an individual pattern and timing of growth, learning style, and family history.
That children need to be able to identify and communicate their feelings, needs, and desires in order to begin to function positively in society.
That children have important rights as human beings.
That children must learn respect for others and appreciation of differences. Children must learn problem solving skills rather than correct answers.
That it is the job of teachers to prepare the environment with a rich variety of opportunities for concrete "hands-on learning". Our curriculum is based on the belief that "children's work is play." Our daily program includes art, music, literacy, science, math, physical and community experiences.
That it is important to have families take an active part in the Preschool.
That learning is a life-long process.

leadership
Preschool Director

704-896-0082