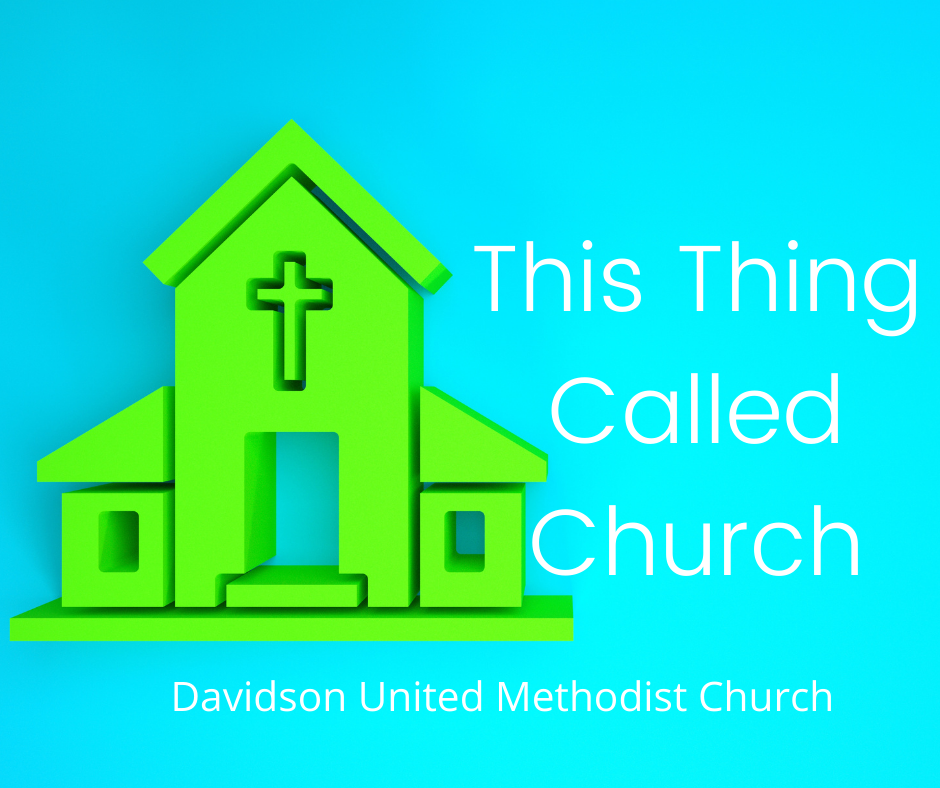 Join our Pastors, David and Kevin, and our Director of Communications, Karen Payne, as they discuss current topics happening in and out of the church. If you have a topic or question for future episodes, please contact Karen Payne.
Episode 8 - September 8
David, Kevin, and Karen give an overview of the book "Five Practices of Fruitful Living" by Robert Schnase for our upcoming church-wide book study and also discuss ways you can participate. They also have conversations about officiating weddings and parenting moments.
---
Episode 7 - August 25
The Lord's Prayer is the topic for today's discussion. It's a prayer the majority of us know by heart, but David, Kevin, and Karen dig deeper into where it came from, the meaning behind it, and why you should pray it every day.
Resources noted during the episode:
---
Episode 6 - August 11
After a short summer break from recording, David, Kevin, and Karen are back together again and recap what has been happening lately. Kevin and Karen give David a special mug to add to his collection. Recapping the Youth Choir trip that happened this summer creates a conversation about keeping people engaged and connected at church and why it's important to be together in-person.
---
Episode 5 - July 7
David, Kevin, and Karen recap their Fourth of July weekends, talk about space travel, and then discuss some of the differences and similarities between Methodists and other religions. These are the books that Kevin and David referenced during the conversation;
Living as United Methodist Christians, by Andy and Sally Langford
Being United Methodist in the Bible Belt, by F. Belton Joyner
Why I Am a United Methodist, by William Willimon
---
Episode 4 - June 23
Last week's theme with David and animals continues as he shares another interesting tidbit. June 28 is John Wesley's birthdate and David, Kevin, and Karen discuss the foundation of Methodism and what it means to be a disciple. Kevin also explains tying in discipleship through music and hymns.
---
Episode 3 - June 9
In this episode, our new Youth Director, Evan Nester, joins David, Kevin, and Karen. Learn more about Evan and what fun and exciting plans he and Brittany are working on for our Youth Ministry. Also, find out what unique animal David ate for dinner once while on a Mission Trip.
---
Episode 2 - May 26
Kevin and Karen are back along with our new Pastor, Rev. David Hockett! In this second episode, Kevin graduates again, the three discuss Sunday's service with Confirmation, and then define/explain the Trinity. David shares what our on-campus Covid guidelines will look like starting on June 1.
Video Link / Podcast Link
---
Episode 1 - May 12
Watch (or listen) to our new Zoomcast called This Thing Called Church. Kevin and Karen are back along with our new Pastor, Rev. David Hockett! In this first episode, hear about Kevin's unexpected house guest, what you can do with any extra coffee cups you have, and meet/learn more about David. Karen puts him in the "hot seat" and has him answer the "famous" eight questions.
Video Link / Podcast Link