Equipping disciples of Christ to move forward in their lifelong journey.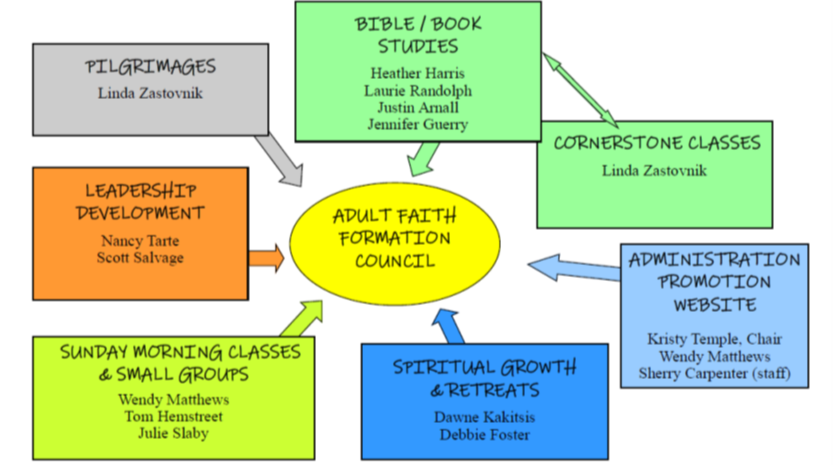 Consequently, you are no longer foreigners and strangers, but fellow citizens with God's people and also members of his household, built on the foundation of the apostles and prophets, with Christ Jesus himself as the chief cornerstone. In him the whole building is joined together and rises to become a holy temple in the Lord. And in him you too are being built together to become a dwelling in which God lives by his Spirit.
(Ephesians 2:19-22)
Purpose of the Adult Faith Formation Council (AFFC)
To be the leadership for transformative ministries for adults at Davidson United Methodist Church, where our mission is to "be the Body of Christ in our community through worship, education, fellowship, and service."
To assist the pastor of Faith Formation in implementing the vision for adult ministry; evaluate the ministries offered; plan, promote, and oversee events, classes, and groups within the area of adult ministry
Identify and invite leaders who would be effective facilitators and teachers.
AFFC Mission
The Adult Faith Formation Council (AFFC) exists to equip disciples of Christ to move forward in the lifelong journey of spiritual maturity through engagement and connection.
AFFC Vision
We want to be a council that reflects a long and strong commitment to helping you grow in your Christian faith. We recognize that people are in different places along the "spiritual spectrum" and so we will oversee the development of programs to support them.